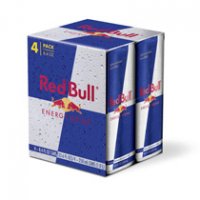 Favorites
Description
Red Bull Energy Drink.4 pack.
Ingredients
Carbonated Water, Sucrose, Glucose, Citric Acid, Taurine, Sodium Citrate, Magnesium Carbonate, Caffeine, Inositol, Niacinamide, Calcium Pantothenate, Pyridoxine HCl, Vitamin B12, Natural and Artificial Flavors, Colors.
Product Features
With taurine.Lightly carbonated.Vitalizes Body and Mind.Red Bull energy drink's effects have been recognized worldwide by top athletes, busy professionals, college students, and travelers on long journeys.Caffeine content: 114 mg/ 12 fl oz.