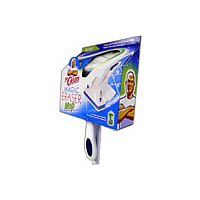 Favorites
Description
For sparkling clean floors! For best results use it with your favorite Mr. Clean all-purpose cleaner! Now the innovative cleaning power of Mr. Clean Magic Eraser works its wonders on floors! Deep penetrating action gets out grime and dirt trapped in grooves and surfaces so floors really shine. The highly absorbent Mr. Clean Magic Eraser Mop rinses clean time after time. Safe for use on: Vinyl, tile, marble, stone. Made in China.
Ingredients
The Mr. Clean Magic Eraser Mop is a highly effective cleaning tool. Test first on a well lit, inconspicuous spot with light pressure. Let the spot dry to see if it is modified or damaged. Not recommended for the following surfaces. High gloss, polished, dark, brushed, satin, faux, bare/polished wood, or stainless steel. Do not use with chlorine bleach on vehicle body, or post-factory tinted glass. Keep out of reach of children. Keep out of reach of toddlers & pets to avoid accidental ingestion. Do not use on skin or other parts of the body. Using on skin will likely cause abrasions. Not recommended for wood floors, or rough surfaces.
Product Features
How the Mr. Clean Magic Eraser Mop works. 1. Wet. 2. Wring. 3. Mop. 4. Rinse.