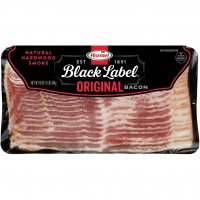 Favorites
Description
Hormel Black Label Bacon is specially selected. This bacon delivers our highest standard of quality available. Don't settle for anything less! There's a name for food this good Hormel Foods.
Ingredients
Cured with Water, Salt, Sugar, Dextrose, Sodium Erythorbate, Sodium Nitrite.
Product Features
Panfry: Place bacon slices in skillet. Cook over low heat, turning frequently, to desired crispness. Drain on paper Towels. Bake: Preheat oven to 400 degrees F. Separate slices and place on a rack in shallow pan. Bake 12 to 15 minutes to desired crispness. No turning necessary. Broil: Place separated bacon slices on broiler rack 3 to 4 inches from heat source. Broil 2 to 3 minutes on each side to desired crispness, turning once. Microwave: Place bacon slices on 2 microwave-safe paper towels and lay on microwave-safe plate. Cover loosely. Cook on High to desired crispness. 1 slice: Cook 45 to 60 seconds. 4 slices: Cook 2 1/2 to 3 1/2 minutes. 8-12 slices: Cook 7 to 8 minutes, rotating dish 1/2 turn after 3 1/2 minutes.